Talk on Indexing of Large Data Sets in Image Retrieval at Simula Metropolitan, Oslo, NO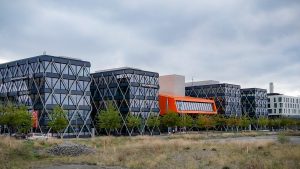 Mathias Lux was invited to give a talk at Simula Metropolitan, a joint research center of SIMULA research labs and Oslo Metropolitan University. Besides the talk he took the opportunity to work for two days with the people at SIMULA and talk about future and ongoing projects.
Abstract of the talk: Visual data, especially in the form of images and videos, is created in abundance nowadays. However, search in big amounts of visual data are still a challenging topic. Everything that fits into RAM is easy to handle, but large scale data sets need to distributed or held on slow storage devices, and big data is too large even for single devices and small networks. While image search and classification has arrived at a stage, where users are impressed by the accuracy of search results in many cases, indexing and retrieval from the index are hot topics. In this talk I will present the most common practical methods for indexing and retrieval visual information and I will point out challenges and opportunities in this field.
https://home.wp.itec.aau.at/wp-content/uploads/sites/2/2018/02/Mathias_Lux_1024x1024.png
1024
1024
Rudolf Messner
https://home.wp.itec.aau.at/wp-content/uploads/sites/2/2022/11/ITEC-Webheader-06-1030x94.png
Rudolf Messner
2018-09-11 08:34:11
2018-09-11 08:34:11
Talk on Indexing of Large Data Sets in Image Retrieval at Simula Metropolitan, Oslo, NO